The Danish Embassy celebrates World Bicycle Day 2022
On the occasion of World Bicycle Day held on June 3, the Royal Danish Embassy in New Delhi in collaboration with Smart Cities Mission, Ministry of Housing and Urban Affairs GoI, All India Cycle Manufacturing Association (AICMA) & Delhi Street Art organized a cycle tour of 6km from Nirman Bhavan New Delhi to the Royal Danish Embassy followed by the inauguration of beautiful urban art mural on cycling outside the Embassy building. The mural highlights cycling in India and Denmark. The event was joined by many important guests which included Mr. Kunal Kumar Joint Secretary, Ministry of Housing & Urban Affairs (MoHUA), GoI, Professor Dr. Reddy, President, Public Health Foundation of India, Mr. K.B. Thakur, Secretary General, All India Cycle Manufacturers Association, Fit-India Ambassador, etc.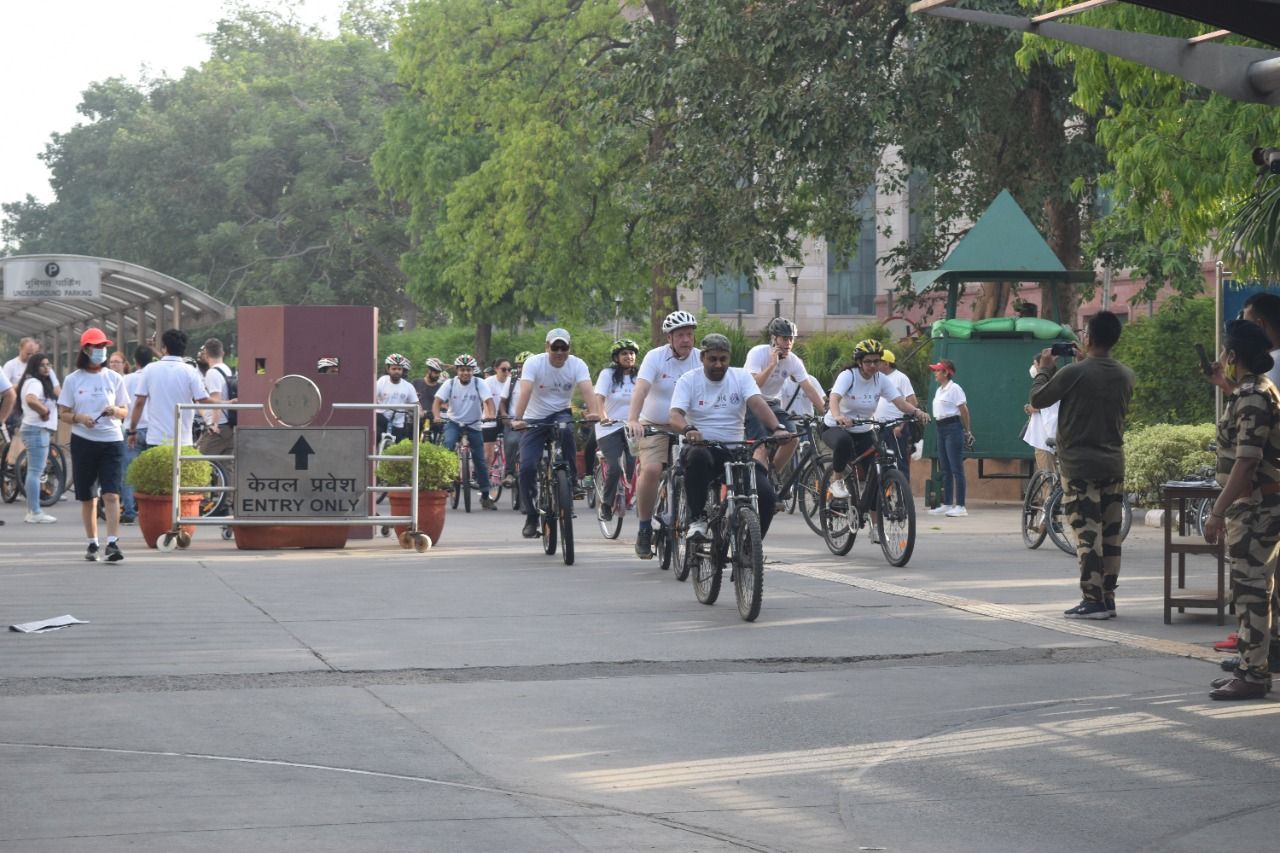 The cycling tour kicks off with the Danish Ambassador H.E. Freddy Svane
and Mr. Rahul Kapoor, Director for Smart Cities Mission in the front.
During the inaugural of magnificent mural on cycling, H.E. Freddy Svane, Danish Ambassador to India mentioned about the cycling culture of Denmark and the strengthened collaboration between India and Denmark. He said, 'We are cycling for sustainability, health and for good, green and great transportation. Mr. Kunal Kumar, Joint Secretary, MoHUA during his address said, 'When we are cycling, we are away from our screens. We connect much more with our surrounding, with nature and with ourselves."
Dr. Reddy, President, PHFI said, 'Cycling has two important wheels- one pedals for environment and the other for health'.The event witnessed around 55 participants who joined the cycle tour that covered around distance of 6km and received positive accolades from all the cycle enthusiasts. By promoting cycling culture, both India and Denmark can mutually address the global challenges of climate change with the commitment to cycle for sustainability, green transition focusing on UN Sustainable Development Goals.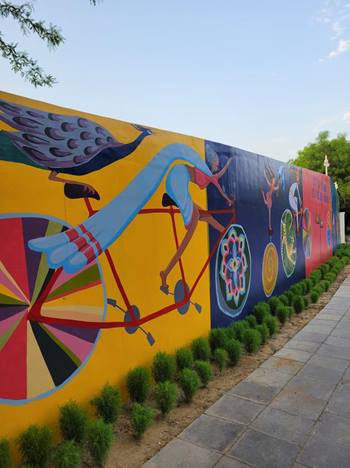 The urban street art mural on the Danish Embassy's front wall.